'Alarming increase' in Barrett's oesophagus
Clinical
'Alarming increase' in Barrett's oesophagus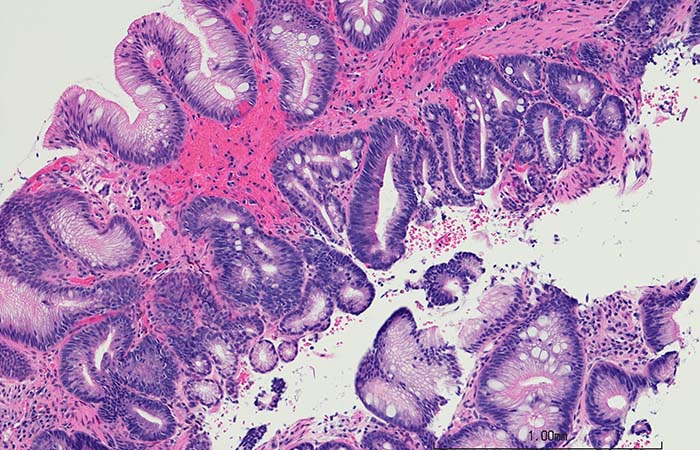 Chronic acid reflux can cause Barrett's oesophagus, the main precursor of oesophageal adenocarcinoma. Now a new analysis from the US reports an "alarming increase" in the number of middle-aged people with these conditions.
Researchers analysed medical records between 2012 and 2019 for, depending on the year, between 4,238,884 to 5,411,838 adults. In 2019, 57 per cent of participants were female, 40 per cent were white and 22 per cent were African American.
The prevalence of Barrett's oesophagus and oesophageal cancer was significantly higher in elderly (65 years and older; 495-570 and 123-150) than middle-aged people (45-64 years; 304-466 and 49-94 respectively).
Prevalence increased in middle-aged people but "appears to have plateaued in the elderly". Rates of oesophagogastroduodenoscopy could not explain the rise in middle-aged people.
"This strong growth in prevalence should be of concern to physicians," said lead author Bashar Qumseya, associate professor of medicine and chief of endoscopy at the University of Florida, Gainesville.
"Whenever we see increasing prevalence of any type of cancer, we should ask whether this is merely due to better screening or a true increase in the disease prevalence. In our study, it was due to the latter."
In addition to chronic acid reflux, other risk factors for Barrett's oesophagus include advanced age, being male, obesity, smoking and alcohol consumption. Dr Qumseya said that middle-aged patients with multiple risk factors would benefit from earlier or more frequent screening or both.
The final results of the analysis should be ready in the next six months.
Record my learning outcomes