Jersey pharmacy 'first to launch Covid antibody testing'
Business
Jersey pharmacy 'first to launch Covid antibody testing'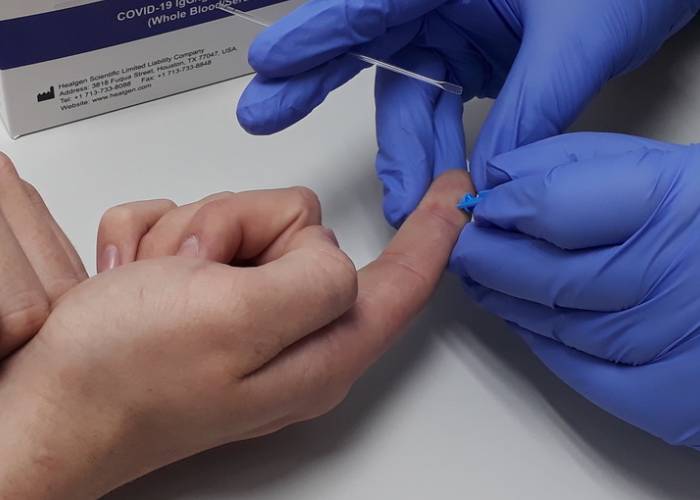 A Jersey community pharmacy claims it has become the first in the UK to launch a coronavirus antibody testing service.
LV Pharmacy has spearheaded the initiative and is working with other pharmacies on the island to roll it out this week, with seven pharmacies signed up so far. Test kits are being sourced from a US supplier who is also selling tests to the Jersey Government.
The rapid finger prick antibody blood tests are administered by health professionals in pharmacy consultation rooms at a cost of £60 to the patient. While this is a private service, patients who test positive for Covid-19 antibodies are referred to the Jersey Government's Covid-19 team.
Patients must contact their pharmacy to make an appointment, and will need to sanitise their hands and wear a face mask before entering the pharmacy to be tested. Anyone who wishes to be tested will need to have been free from Covid-19 symptoms for at least 72 hours.
Positive tests referred
Results from the service are "presumptive" and should not be used as the sole basis for determining infection status, a statement from LV Pharmacy explains, adding that pharmacies providing the service have had "bolt-on professional indemnity insurance" confirmed by a UK pharmacy insurer.
LV Pharmacy says it plans to store testing data with patient consent "for the purposes of identifying and analysing level of community spread/immunity within the island".
The data "would be available to the Jersey Government should they request it in the future to attain a better perspective of the outbreak of Covid-19 locally".  
Working with local businesses
LV Pharmacy also said it wished to work with local businesses "to develop a larger Covid-19 antibody testing strategy that may help support their employees and their return to work policies".
Speaking to Pharmacy Network News, LV Pharmacy head Matt Johnson explained that while it is not yet known how much protection antibodies provide, "data around the longevity of 'immunity' will become prevalent and many [businesses] wish to be in a position to have this data [on employees' antibody levels] ready to hand as and when that evidence becomes available".
However, he acknowledged the question of whether antibody testing will help employees return to work safely is "rather an unknown".
Access to testing
Mr Johnson said pharmacies "have been on the front line since the Covid-19 pandemic started," adding: "It makes sense that with a medical infrastructure already in place serving the local community, we extend our pharmaceutical services to include Covid-19 testing to augment the testing that is currently being undertaken by the Government of Jersey."
The service will widen access to antibody testing (the Jersey Government is currently offering it to nominated key workers and selected households) and will help "gain a wider understanding of how many people may have a level of immunity against the novel coronavirus," Mr Johnson said.