ONS on health workers' Covid-19 risk
Analysis
ONS on health workers' Covid-19 risk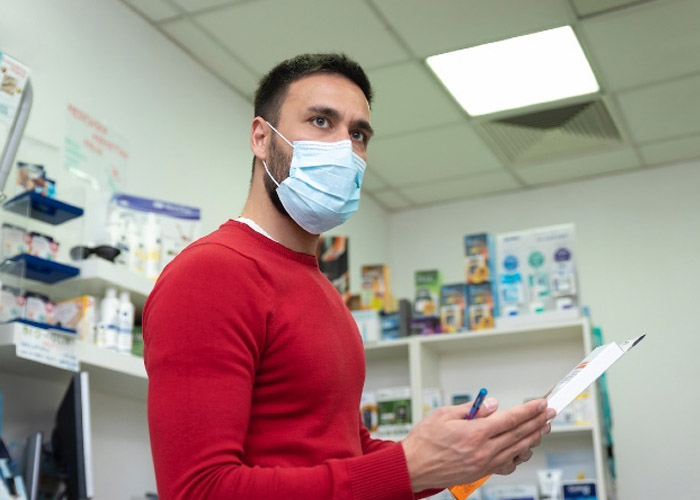 Pharmacists and pharmacy technicians are both in the top 20 occupational groups with potentially the highest exposure to coronavirus, according to the Office of National Statistics.
The ONS has used an estimate of exposure to disease (generally) and physical proximity for UK occupations based on US analysis of these factors, using 2019 data. It gives a useful indication of which roles may be more likely to come into contact with people with Covid-19, based on what these roles normally entail, says the ONS.
The ONS estimate suggests that men and women working in social care – including care workers and home carers – have seen a significantly higher death rate from Covid-19 compared with those of the same age and sex in the general population of England and Wales.
The rate of COVID-19 deaths among male social care workers was 23.4 deaths per 100,000 men, compared with 9.9 deaths per 100,000 for the male population, according to the Office of National Statistics. The respective rates for females were 9.6 and 5.2 deaths per 100,000 women.
Meanwhile, rates of Covid-19 deaths among male and female health workers (such as doctors and nurses) are similar to the general population.
The highest rates of deaths involving Covid-19 have been seen among low-skilled workers such as male security guards (45.7 deaths per 100,000 men), followed by male taxi drivers and chauffeurs (36.4 deaths per 100,000).
The analysis covers deaths registered up to April 20 involving Covid-19 among those aged 20 to 64 years in England and Wales.
ONS figures also show how people from all minority ethnic groups apart from Chinese and those of mixed race are at greater risk of a coronavirus-related death than the white population in England and Wales.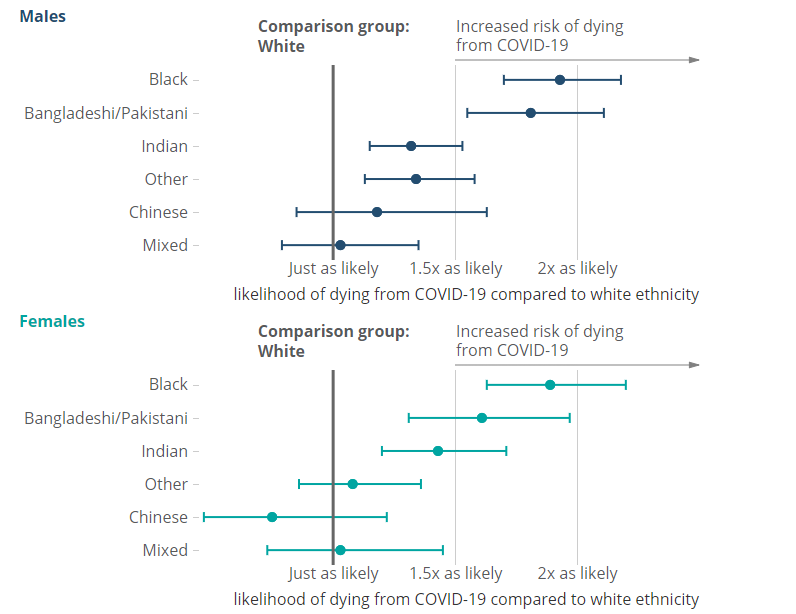 Risk of COVID-19 death by ethnic group and sex, England and Wales, 2 March to 10 April 2020. Source ONS
Up to 1 May the ONS reports there were 33,408 deaths registered in England and Wales involving the coronavirus - 19,130 men and 14,278 women.
The majority of deaths have been among people aged 65 years and over (29,495 out of 33,408), with 45 per cent (13,214) occurring in the over-85 age group.
ONS figures are based on deaths registered in the stated period and include all deaths where 'Covid-19' was mentioned on death certificates. They differ from those published by the Department of Health and Social Care (DHSC), which are based on deaths occurring to date among those who have tested positive for Covid-19.
The number of deaths registered in England and Wales in the week ending 1 May was 17,953, down on the previous three weeks but still 80 per cent higher than what is normal at this time of year.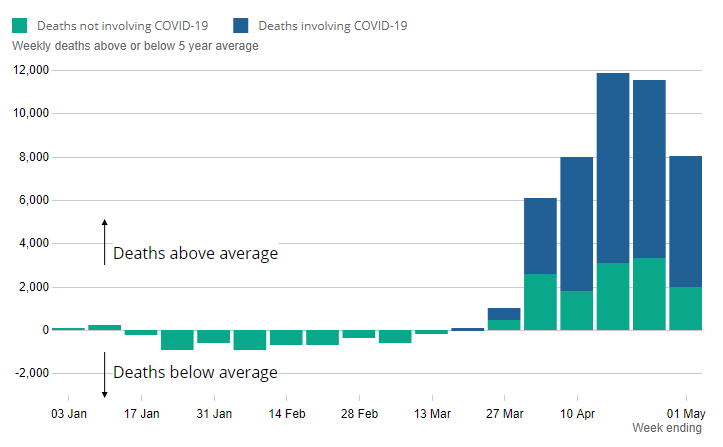 Deaths in England and Wales in 2020 compared with the average between 2015 and 2019, by whether or not they involve COVID-19. Source: ONS
Sponsored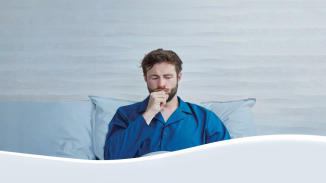 OTC
Discover how aromatic rubs can play a key role in customers' fight against symptoms of colds and congestion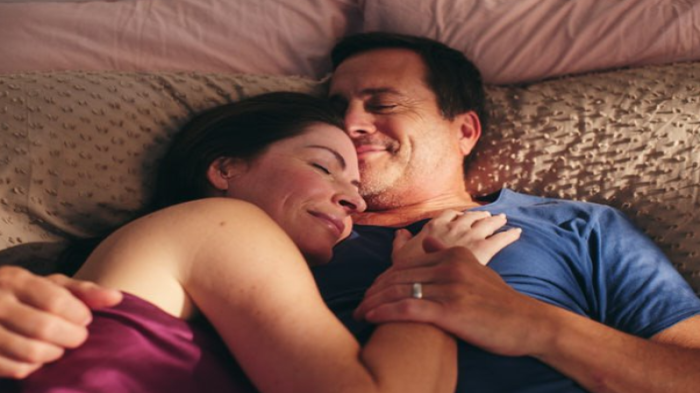 OTC
This training video will support your conversations around treatment goals for EP products so you can help meet your customers' needs
Record my learning outcomes