Massive rise in mental disorders among health workers in Covid peak
Analysis
Massive rise in mental disorders among health workers in Covid peak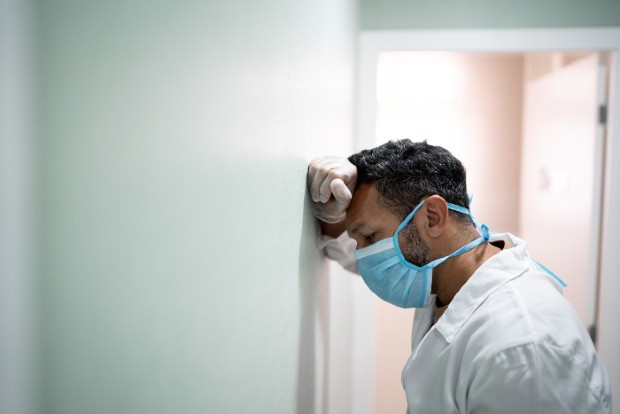 The first peak of the Covid pandemic last year saw a 300 per cent rise in healthcare workers suffering from mental health problems, according to a study led by the University of Roehampton.
In what is believed to be the biggest study of the impact of the disease on healthcare workers in the UK, researchers found that many more were left suffering from stress, anxiety and depression by April and May 2020 than before the pandemic.
A lack of personal protective equipment, pressure to work without adequate PPE and poor communication and training were cited as reasons for "the most severe levels of mental health symptoms".
The study, published in the British Journal of Psychiatry Open, garnered responses from 2,773 workers from 52 UK NHS trusts.
High levels of stress and anxiety increased from eight per cent to 36 per cent while severe stress rose from 11 per cent to 46 per cent. Researchers also said other factors were "significantly associated with severe psychiatric symptoms," with females, frontline workers, young staff and managers suffering from mental health problems.
A greater number of female workers compared with men suffered from high anxiety, depression and stress and frontline staff were more than twice as likely to have severe post-traumatic stress disorder symptoms than non-frontline workers.
Black and minority ethnic workers had a 50 per cent greater risk of suffering from PTSD and were "significantly more worried about lack of PPE, getting ill or dying from the virus and about contracting Covid-19 at work compared with non-ethnic minority healthcare workers."
The study also found 37 per cent of single workers had depression compared with 26 per cent of married workers or those in a relationship.
People in managerial positions were more than five times more likely to report symptoms of PTSD, although researchers said "being able to share stress at work was associated with a 30-40 per cent reduced risk of having high psychiatric symptoms."
Lead researcher Dr James Gilleen said the research was "critical in providing the clearest picture yet on the traumatic psychological effects of the Covid-19" on healthcare workers.
He also suggested the findings could help the government and NHS ensure staff have access to mental health support and avoid the same issues in future pandemics.
"While we're not entirely shocked to discover that all mental health indicators deteriorated among healthcare workers, the extremely sharp increase in those that experienced severe symptoms of stress, anxiety, depression and PTSD is unprecedented and a serious cause for concern for NHS staff wellbeing," he said.
"Our results clearly show that mental health disorders are on a staggering rise and urgent action is needed to provide our healthcare workforce with the support, resources and management they need."
Record my learning outcomes