Pharmacy capable of delivering millions of Covid jabs, survey finds
Analysis
Pharmacy capable of delivering millions of Covid jabs, survey finds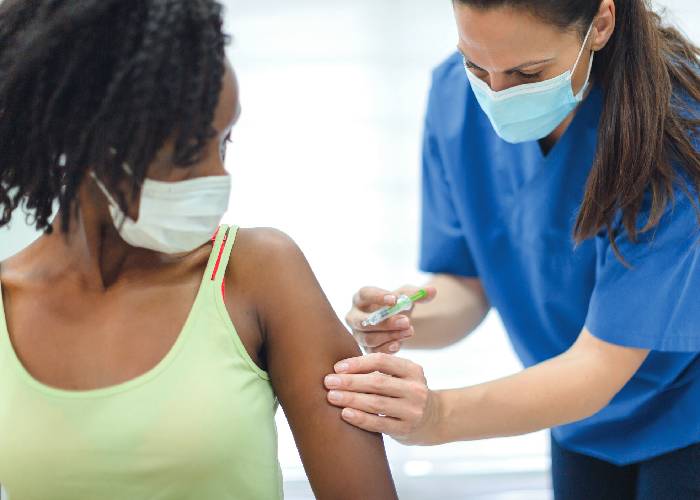 Over 90 per cent of community pharmacists would be eager to take part in an annual Covid-19 booster vaccination programme similar to the flu jab service given the right funding and support, a new survey shows.

The CIG Research survey, published today (April 28), explored pharmacists' attitudes to a possible yearly Covid service and the support they would need to make it a reality. Its findings come as many question whether the UK's vaccination programme — highly effective though it has been to date — has succeeded in making best use of the community pharmacy network.
As well as the enthusiasm shown by the sector, the survey pointed to high levels of public demand, with 98 per cent of respondents saying their patients would appreciate the service. In particular, independent pharmacists and those working in London reported strong demand.
"Although this would be a lot of work for us I believe the public would welcome it hugely," said one pharmacist, while another said they had received "countless requests" for vaccinations from the public.
Another said: "They would rather walk a few streets to reach us than having to go miles away for a Covid vaccine." Others commented on pharmacies' ability to reach deprived communities and individuals from ethnic minorities.
Ambitious targets
In the current Covid-19 vaccination programme in England, only pharmacies capable of vaccinating 1,000 patients per week were considered in the first instance, until NHS England opened applications up to those pharmacies capable of delivering 400 vaccinations per week.
The CIG research indicates that even this lower target may be difficult for some pharmacies to reach, with respondents saying, on average, they felt their pharmacy could deliver around 300 jabs per week with the right support in place – although independents reported a significantly higher capacity of 352 per week.
"I would be unlikely to reach 400 a week while maintaining social distancing," commented one, while another said simply: "The working hours are too long and there are too many vaccines to administer each week."
Some were more hesitant about an annual service, with one pharmacist working for a multiple commenting: "I am stretched with no further support and my regional manager doesn't think much of getting a second pharmacist as support."
According to latest Government figures, only 340 pharmacies are currently engaged in the Covid vaccination service (DHSC data April 23).
Capacity constraints
This issue of capacity was highlighted by many pharmacists, with 80 per cent concerned that Covid vaccinations would have a big impact on their business.
Rearranging workflows, extending opening hours and hiring locums were some of the ways in which respondents said this could be offset.
The attitudes of Government and health bodies towards community pharmacies was another perceived barrier, with 88 per cent saying that Government and NHS officials don't see pharmacy as an integral part of primary care. In the words of one pharmacist, "our expertise is overlooked".
When asked to rate the support currently on offer from GPs, CCGs and primary care networks to help pharmacists get involved in the vaccination programme, respondents were lukewarm.
Investment needed
PSNC director of NHS services Alastair Buxton told Pharmacy Magazine: "This finding matches our own poll taken at the March 2021 LPC meeting. PSNC is due to begin negotiations for 2021/22 shortly and the impact of Covid-19 on healthcare needs is forefront in our minds.
"Not only will we be considering what pharmacies can do for the NHS, but we will also need to talk about what investment is needed to support any additional services. PSNC and the other pharmacy organisations have been saying for some time that many more pharmacies could help deliver the Covid vaccination programme."
"It would be a natural evolution of community pharmacy's role in the Covid vaccination programme to vaccinate regularly in the future," agrees NPA chair Andrew Lane.
"This approach would be sustainable in a way that it is not for the mass vaccination centres. It also plays to the skills and accessibility on display when pharmacies provide flu jabs. At that stage we would likely be looking at thousands of pharmacies being involved, not just the current hundreds."
To download the full survey click here.


Main survey findings
Community pharmacies in England could deliver over 25 million Covid vaccinations a year
58% of pharmacists say they would "definitely" be able to offer an annual Covid vaccination service given appropriate funding and support
71% of pharmacists say there would be "a great deal of interest" from customers for a pharmacy-delivered Covid vaccination service
Pharmacists estimate they could give around 300 vaccinations a week given the right support using a model similar to the flu service
Pharmacists estimate that an appropriate fee for service (net of ingredient costs) would be around £17-18.
Record my learning outcomes