Revealed: Covid-19's mental health toll on pharmacists
Profession
Revealed: Covid-19's mental health toll on pharmacists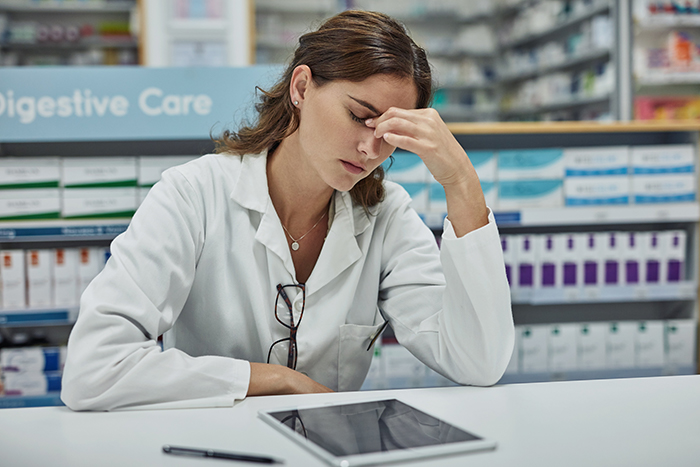 Workload, safety fears and rising costs are taking a huge toll on community pharmacists' mental health as they grapple with the Covid-19 pandemic, with many reporting that Government inaction is making matters worse.
Pharmacy Magazine's survey of 232 pharmacists, conducted over the weekend of April 18-19, found that 81 per cent are suffering high stress levels because of workplace issues and three-quarters are dealing with burnout.
Sixty per cent reported significant levels of anxiety, while just under a third spoke of depressive symptoms.
Mental health issues were reported at similar rates for independent pharmacists and those working in multiples, with the exception of burnout which was more prevalent among independents.
Said one contractor: "Having owned my pharmacy for over 15 years I have never felt so overwhelmed and fed up… I haven't had a day off in three months."
Another said the sector was "on the brink of collapse" as there is "simply no margin in what we do… the whole situation has been traumatic and has left me suicidal".
Workload: independents worst hit
The early weeks of the crisis saw workload shoot up dramatically for most pharmacists. The rate of increase appears to be easing somewhat, with fewer saying they were working more hours per day than in a previous survey three weeks ago.
However, pharmacists are still working significantly more hours than they would usually expect to, reporting an average of 51 additional unremunerated hours over the past fortnight.
Again, this is more pronounced for independents. Thirty-eight per cent of pharmacists working in independents reported working at least an extra two hours per day versus three weeks ago, compared to nine per cent in the large chains.
On average, pharmacists had spent eight hours over the previous fortnight dealing with a rise in queries associated with GP practices' strict triaging policies, and a similar amount of time managing the public's expectations around issues like higher wait times due to social distancing measures.
One pharmacist said phone queries are now the "biggest problem… [the phone] now rings nonstop all day," while another said: "The extra hours I am covering for staff who are shielding is not sustainable".
'Clapping is patronising'
Respondents were critical of the support offered to community pharmacies during the crisis. Seventy-one per cent said they were not confident that everything possible was being done to support the sector. One said: "Once again pharmacists have been given platitudes, but no help or money."
Another said: "Clapping is patronising. Tell government to place orders for PPE and distribute to pharmacies free of charge rather than the current [wholesaler-led] system … Pharmacy needs to be recognised as front line equally with hospital staff."
The Government's handling of the pandemic was described as "awful," while one respondent spoke of a "disconnect between the command and control individuals at the centre and pharmacy teams that have to deliver at the frontline… it creates the perception that NHS England & Improvement doesn't know what it's doing".
"Being told to work in these conditions is unacceptable," said one pharmacist. "Community pharmacy staff on low pay should not have been used as cannon fodder."
Useful numbers
Samaritans: 116 123
NHS helpline: 0300 131 7000
Text FRONTLINE to 85258