GPhC fails to meet FtP standards for third successive year
Profession
GPhC fails to meet FtP standards for third successive year
The General Pharmaceutical Council has failed to meet all the standards around fitness to practise for the third consecutive year.
In its latest performance report, the Professional Standards Authority said pharmacy's regulator had satisfied all the criteria in areas such as general standards, guidance and standards, education and training and registration but said it had only met two of the five standards on FtP.
Those included customer service, transparency and clarity around certain FtP processes and the timeliness with which work is completed which the PSA said had "significantly declined".
The PSA, however, said the GPhC was trying to address concerns over its FtP processes that were outlined in its 2018-9 performance review and conceded the pandemic had "delayed the GPhC's action plan and adversely affected how quickly cases progressed."
The report authors also said they had "seen improvements in some areas and consider that the direction of travel is positive".
However, the PSA said it will monitor the GPhC's performance around FtP closely and has written to Nigel Clarke, who will step down as the regulator's chair next month, to outline what it expects this year.
GPhC chief executive Duncan Rudkin (pictured) said it was "a key priority for us to make improvements in our fitness to practise processes".
"As the 2020/21 performance report highlights, some of the improvement work we had planned during this performance review period started later than anticipated because we needed to respond quickly and effectively to the challenges and pressures of the pandemic," he said.
"During the pandemic, we received high numbers of concerns, could not progress investigations as quickly as usual and had to rapidly move to remote hearings. However, we made sure we took forward work to finalise and implement our strategy on changing the way we manage concerns about pharmacy professionals."
Mr Rudkin added: "We are pleased that the performance report recognises the progress made in the particular circumstances of the pandemic. The report also recognises that while we had to re-prioritise and adapt our plans, we have managed to complete almost all of the planned improvement actions."
Sponsored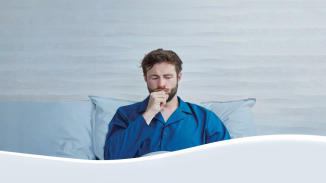 OTC
Discover how aromatic rubs can play a key role in customers' fight against symptoms of colds and congestion
OTC
Understand how fungal nail infections develop and help manage customer expectations around treatment
Record my learning outcomes