'Revolutionary' anti-cholesterol drug to be offered on NHS
Health & NHS
'Revolutionary' anti-cholesterol drug to be offered on NHS
An anti-cholesterol drug described by NHS England and Improvement as "revolutionary" will be offered to patients on the NHS in England and Wales.
Inclisiran, which was shown during clinical trials to lower levels of LDL-cholesterol in the blood, will be made available to patients after manufacturer Novartis agreed to reduce the cost per dose from £2,000, although the new figure remains undisclosed.
NHSE&I said inclisiran will be administered via an injection by nurses in GP surgeries and given twice a year. When asked by Independent Community Pharmacist if there are plans to make the drug available in community pharmacies, NHSE&I said it would be administered by healthcare professionals including pharmacists.
The PSNC today said inclisiran has been added to a new section of the Drug Tariff - part VIIIC. Pharmacy's negotiator also said AAH has been awarded the tender to supply inclisiran "to primary care in England under a Solus distribution arrangement" and would start selling the drug this month.
"Inclisiran will be available to order from AAH at a nominal charge of £45 per pack, as agreed within the commercial agreement between Novartis and NHSE&I," the PSNC said.
The National Institute for Health and Care Excellence, which recommended inclisiran as an option for people who have had a stroke or heart attack, said inclisiran will be taken "when statins or other lipid-lowering therapies do not control LDL-C well enough or when people cannot have statins".
NICE, however, cautioned there was no data directly comparing inclisiran with medicines used to treat high cholesterol such as ezetimibe and alirocumab and "no long-term evidence on whether inclisiran reduces cardiovascular events".
NICE said: "This means the clinical evidence and the cost-effectiveness estimates are very uncertain. But, despite the uncertainties, inclisiran is still considered cost effective in people who have previously had a cardiovascular event and have persistently high LDL-C levels (2.6 mmol/l or more) despite maximum lipid-lowering therapy."
Consultant pharmacist Sotiris Antoniou, the Royal Pharmaceutical Society's spokesperson on cardiovascular medicine, said: "It's a big step forward on existing injections that have a similar action which must be given every two weeks, a regime which can be difficult to remember. Inclisiran has proved very effective in clinical trials and will help reduce the burden of taking therapy that people with high cholesterol can face.
"It will be easy to administer for pharmacists who work in general practice, as they will be able to give the injection to patients who have already had a stroke or heart attack and are not responding to other cholesterol-lowering treatments as part of their regular check-ups. It's a real game-changer for them."
Sponsored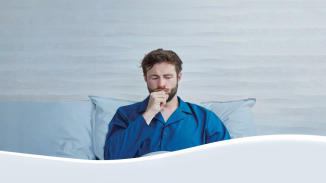 OTC
Discover how aromatic rubs can play a key role in customers' fight against symptoms of colds and congestion
Record my learning outcomes