MHRA recalls heart and blood pressure medication
Health & NHS
MHRA recalls heart and blood pressure medication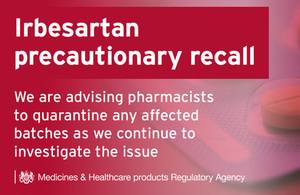 The Medicines and Healthcare Products Regulatory Agency (MHRA) has recalled three batches of blood pressure and heart medication Irbesartan over concerns they may have been contaminated.
This is part of an ongoing investigation into potential contamination of sartan-containing medicines with N nitrosodiethylamine (NDEA), and follows two recalls in early and late January.
Investigations began in 2018 when another impurity, N-nitrosodimethylamine (NDMA), was found to be introduced in the manufacturing process of a valsartan drug in a Chinese facility.
Like NDMA, it is thought NDEA may have carcinogenic potential.
However, there is no evidence that NDEA contamination is harmful to patients, and they are advised to continue taking their medication.
Dr Sam Atkinson MHRA's Director of the Inspection, Enforcement and Standards Division said:
"Patient safety is our top priority and we will take any necessary steps to protect public health.
"Today's Irbesartan recall shows we are continuing to investigate potential contamination of sartan containing medicines.
"There is no evidence at present that medicines containing NDMA or NDEA have caused any harm to patients the recall is occuring as a precaution.
"Because of the risk associated with suddenly stopping high blood pressure medication, continue to take your medicines as prescribed by your doctor.
"Please speak to your doctor or pharmacist if you have any concerns about your medicine."
Record my learning outcomes