Pharmacists not using Yellow Card Scheme
Clinical
Pharmacists not using Yellow Card Scheme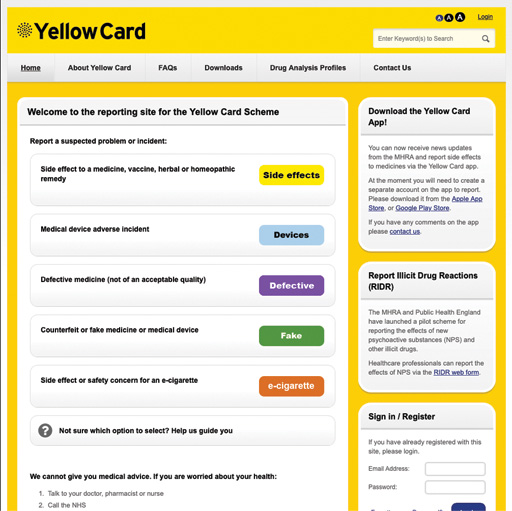 Almost three in every five community pharmacists have never reported an adverse drug reaction (ADR) using the Yellow Card Scheme, according to research from the School of Pharmacy and Pharmaceutical Sciences at Cardiff University.
Researchers mailed a questionnaire to all 713 registered community pharmacies in Wales, asking about factors that may deter or prevent ADR reporting, what the main barrier was and how reporting could be encouraged. The response rate was 52 per cent. Of these, 57 per cent had never submitted a Yellow Card report.
The most important barrier hindering reporting was not seeing many ADRs, cited by 53 per cent of pharmacists overall and identified as the main barrier by 25 per cent.
Other barriers included not seeing many ADRs that meet the reporting criteria (36 per cent overall and 9 per cent as the main barrier), difficulty identifying the causative drug (31 and 13 per cent respectively), not being sure which ADRs to report (27 and 10 per cent respectively) and lack of time (21 and 19 per cent respectively).
The authors say that a "surprising finding … was the lack of confidence in identifying and knowing how to report ADRs". Fifteen per cent of pharmacists admitted that they were not confident identifying ADRs, with 5 per cent saying this was the main barrier. Twelve per cent said that they did not remember about the Yellow Card Scheme (the main barrier for 5 per cent).
The most popular suggestions to increase ADR reporting were being able to report through normal dispensing software, cited by 64 per cent overall and as the main facilitator by 34 per cent. Other facilitators included clearer guidance about which ADRs to report (60 and 34 per cent respectively), receiving remuneration for reporting (27 and 13 per cent) and regular alerts (23 and 3 per cent).
"Addressing community pharmacists' self-identified barriers and facilitators may help increase reporting rates," the authors suggest.
Record my learning outcomes