BAME staff still waiting for Covid risk assessment
Business
BAME staff still waiting for Covid risk assessment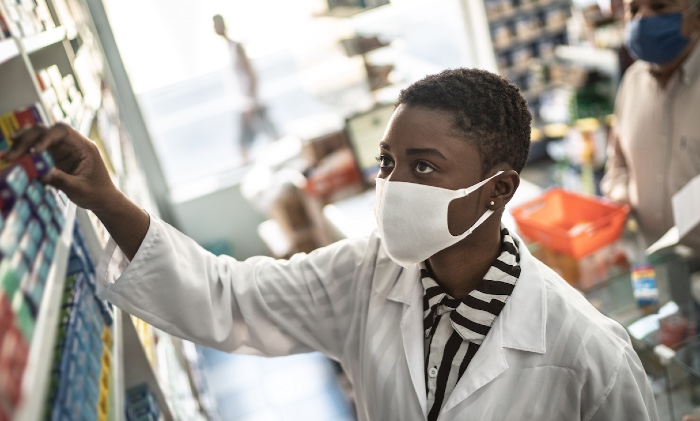 More than two-thirds of black, Asian and minority ethnic pharmacists and pre-registration trainees have not undergone coronavirus risk assessments nearly two months after the NHS said they should take place, according to a survey carried out this earlier this month by the Royal Pharmaceutical Society and the UK Black Pharmacists Association (UKBPA).
The survey highlights that many individuals from a BAME background working in pharmacy in primary and secondary care have been left vulnerable to the disease by an apparent failure of employers to conduct the assessments.
It reveals 78 per cent of black pharmacists and pre-regs think they are at risk to Covid-19 and, according to the RPS, they believe "changes to their working practices are required" compared with 67 per cent of white colleagues. There were 380 responses to the survey, with 236 respondents from a BAME background and 69 from a black background.
RPS president Sandra Gidley described as the results as "shocking". Both RPS and UKBPA have already called for individual risk assessments to be mandatory for BAME staff and intend to re-survey pharmacists and pre-regs in a month's time to check if there has been any improvement.
The risk assessment, introduced at the end of April, outlines the actions employers should take to protect staff, including those at greater risk based on their race, age, disability and pregnancy. It also called on employers to engage with staff networks, including BAME staff bodies.
"Employers must take urgent action to address this and ensure pharmacists and their team can continue looking after patients safely," Gidley said. "It is essential that pharmacy teams are properly assessed so that those at high risk can be supported to reduce the risk of Covid-19 transmission.
"Lessons are to be learned from this pandemic, especially with the risk of a second wave, and we now need action so our workforce is protected."
The RPS said it and UKBPA have "written to government equalities ministers across Great Britian calling for support for BAME pharmacists and team members".
UKBPA president Elsy Gomez Campos said: "It is concerning to hear that pharmacy colleagues are still waiting for a Covid-19 risk assessment. Pharmacy staff need to feel safe if they are going to do their job without fear or anxiety.
"This is the time to look after each other. Our profession must rise to the challenge and respond to the RPS call of risk assessing pharmacy staff. In a month's time, the survey results must be very different from what we see today."
The Association of Pharmacy Technicians UK said it "is committed to working with others across the profession so that members, pharmacy technicians and support staff from BAME backgrounds receive appropriate risk assessments in line with the latest evidence".