NHS chief: No deal medicine plans "activated"
Analysis
NHS chief: No deal medicine plans "activated"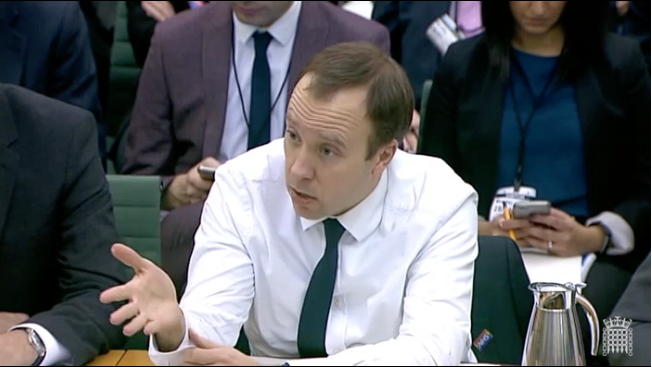 Health secretary Matt Hancock addressing the health select committee
The Department of Health and Social Care has "activated" contingency plans for the supply of medicines in the event of a no deal Brexit, NHS England chief Simon Stevens said in a hearing in which it also emerged that the Government is prioritising medicines over food in its no deal plans.
Mr Steven's remarks were made during a January 28 commons health select committee hearing on the implications and practicality of the Long Term Plan.
When asked by Labour MP Ben Bradshaw how Brexit might frustrate the delivery of the Long Term Plan, Mr Stevens said the NHS and DHSC had been able to frame the plan "in the knowledge of the referendum result", adding that there has been "a lot of operational work" to ensure the delivery of health services in any Brexit scenario.
Mr Bradshaw then asked whether, given there is still no agreed Brexit deal, these contingency plans have "been activated", to which Mr Stevens replied that they had, and that the plans involved building a "buffer stock" of medicines, medical devices and non-clinical supplies required by the health sector and reviewing the transport infrastructure needed to keep drugs circulating.
The Department for Transport's work around transport infrastructure would be particularly crucial, Mr Stevens said.
Medicines over food
Health secretary Matt Hancock revealed in the course of the hearing that the Government has "of course" prioritised medicines over food in its contingency planning.
This is because the proportion of food that is imported into the UK is "much smaller" than with medicines, with "around half" of the 12,000 medicines used in the UK (by number rather than volume) having "some touch point with Europe", he claimed.
Bradshaw said Mr Hancock's answer "implies it's not possible to guarantee both medicines and food" if there is no deal.
Shadow health secretary Jonathan Ashworth said: "The fact that the health secretary is forced to make decisions over whether to prioritise medicine over food in the event of a Tory no-deal Brexit is simply astonishing.
"Playing Russian roulette with the national interest and putting people's health at risk like this is shameful and scandalous."
Hancock: Supply assured "if everybody does what we need to do"
In a heated exchange, Mr Bradshaw queried whether Hancock's department could realistically get all of the legislation needed to prepare for any Brexit contingency through both houses of Parliament by March 29. Mr Hancock said that it could, and had "taken a number of statutory instruments through in the last couple of weeks".
Bradshaw pressed Hancock, saying that while some of the potential drastic effects of a no deal Brexit might not seem "very likely" to the health secretary, the public was "very worried".
Mr Hancock said: "I'm giving you the absolute assurance that if everybody does what we need to do the continuity of supply of medicines will be in place no matter what the Brexit scenario."
Workforce a "risk" for Long Term Plan delivery
Health committee chair Dr Sarah Wollaston said there were "many unknowns" regarding the NHS Long Term Plan, such as workforce, funding for training and education, social care and how specific objectives such as prevention will be budgeted for.
When asked which of these posed the "most risk" to being able to deliver the plan, Simon Stevens cited workforce and the difficulty in increasing recruitment to match the increased funding going into the NHS.
NHS Improvement's Ian Dalton said there would be a "definitive" answer on how much would be set aside for the NHS workforce budget by the time of a review that is to be carried out in the coming autumn.
Mr Dalton commented that there are "significant vacancies" in hospital and community services, and that while there are ideas in the Long Term Plan the challenge now is to "populate that with detail".
Mr Dalton added that the Long Term Plan sets out an agenda for a "complex new care model" and that it would take time for this to come into effect.
Matt Hancock said there was a "clear need for greater provision of primary care" and that the ethos was changing to ensure care is "delivered by a broad range of practitioners" of which he cited nurses and physios.
He did not mention pharmacists; the Long Term Plan makes a clear commitment to increasing the 'clinical pharmacist' workforce as part of provisions for primary care networks, but is less clear on the role community pharmacists are to have.
Record my learning outcomes