Pharmacist tells PM more funding needed during visit
Profession
Pharmacist tells PM more funding needed during visit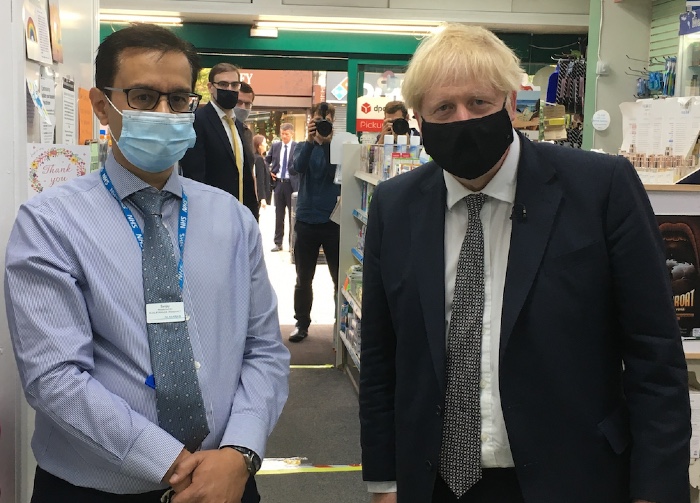 Boris Johnson took time out yesterday (August 6) to visit a pharmacy and hear about the challenges a community pharmacist and his team have faced in the battle against Covid-19.
The prime minister went to Ruislip Manor Pharmacy to talk to the owner Sanjay Doegar about how the team helped keep people in the local community safe, including getting medicines to vulnerable patients and staying open for as long as possible.
He also told Mr Johnson the sector needs fresh investment as concerns intensify over how and when £370 million in advance funding will be paid back.
"It's great that Mr Johnson made time in his busy schedule to hear about the situation on the ground for community pharmacy. We talked about the work of pharmacies during the coronavirus pandemic, the flu season ahead and the need for long-term investment to unlock our sector's potential," said Mr Doegar, who is a National Pharmacy Association member.
"I got across some key messages such as pharmacy is open and on the frontline for patient care and we offer flu jabs. We need more investment in pharmacy to help patients."
NPA chief executive Mark Lyonette said: "In the last two months, NPA members have played host to the health secretary, the chief executive of the NHS and now also the prime minister.
"It is really important that senior figures like this hear first-hand the experiences of frontline pharmacy teams, to give colour and authenticity to the representations made by pharmacy leaders nationally.
"Politicians are getting the consistent message that pharmacy teams are heroes on the health service frontline, and that more support is needed from government – to keep the doors open and for pharmacies to play a key role in Britain's eventual recovery from the pandemic."
Record my learning outcomes