The interview
Taking a forward view
Community pharmacy is in flux. Between the investment in practice pharmacists and funding cuts, there's clearly interest in pharmacists' skills, but no clear sense of where community pharmacy might fit in a future world of integrated primary care. We asked 20 community pharmacists to tell us what they think. This is their considered, and collected, response, as told to Rob Darracott
Community pharmacists are a pretty resilient bunch. While having clear concerns for the future of their businesses or their careers, they are also optimistic, and some might say surprisingly engaged in thinking about the future.
I started by asking what they think the NHS really needs community pharmacy for? Some are blunt: "I don't think they know: 'it's too expensive, all we do is dispense'."
Dig a little deeper and you uncover a clear ambition for the sector to be recognised for its potential. "We can do more. They've put pharmacists into GP surgeries and I partly understand the logic, but you've got a whole load of pharmacies in a network that could be utilised much more."
They are also realistic about current perceptions. "We distribute medicines; they have no real alternative for that at the moment. They also need us to keep the price down, because we do that really well." Scratch the surface, and our community pharmacists have clear ideas of where the NHS really needs their skills. "Use community pharmacy as the gatekeeper for patients before the surgery. So much stuff is duplicated. Why do GP practices have clerks reviewing prescriptions? Move that to the pharmacy - an independent prescriber could make immediate changes, and reduce duplication. MURs have lots of information if you do them properly." "What they really need community pharmacy for is as an accessible clinician on the high street, that the public can access and get outcomes from. Developing a service which is clinically focused, relieving pressure from primary and secondary care, is the priority."
They do, however, recognise the difficulty of making change happen. "They could use pharmacy, but they don't know how to unlock it. And part of the problem is that I don't think we know how to unlock it either. We need to make quite severe changes that could be quite painful."
"You won't have pharmacies on street corners without supply. My role, if I do it correctly, is to stop people who come in here from going onto another provider. But that relationship is built up from me dispensing to them - I'm a trusted face; I've been here 30 years. People look on NHS.com or whatever it's called now, but they don't get the nuances of what they are reading, even from a reliable source. They need us for that; it's convenient to focus on supply, because we don't document what we actually do." There's a lot to unpack in all of that, so I ask where they think their priorities should lie: immediate care, public health and prevention, or supporting better management of long-term conditions (LTCs). All are considered important, but supporting improved medicines use in those with LTCs was seen as the long-term game changer.
"If I look at the sustainability of the business, we would do immediate care anyway - that's a given. Health promotion - that's a given but it's not going to help the business. The only thing that is going to give us some longevity is if we look at long-term conditions."
"That's the biggest burden; it's taking up a lot of time in general practice that could be moved into community pharmacy. Improved management of long-term conditions is where we should be, making sure patients are looked after, taking their medicines and benefitting from their regime."
There is clearly, though, work to be done. "Long-term conditions I can see in the future, but I'm not sure the workforce is ready for it."
Most saw all three areas as important. "I think we're synonymous with minor ailments now. We're doing advanced ENT minor ailments at the moment. We can give antibiotics for ear infections; UTIs, why can't we do things like that? I spoke to the local drug team about users who have infected site infections; we could treat that too before it becomes more severe."
"The public health side is the one I've gone into. There's a heck of a lot more we could be doing to be more proactive, like with health checks, for example. I personally believe vaccinations should be done in pharmacies, full stop."
Step up to the plate
Some of these areas are recognised as not always easy to manage. Pharmacy's inability at times to step up to the plate is a worry. "I got the local authority commissioning, but then pharmacy wasn't interested, so I was left out on a limb." Employees could also sense that their employers were torn. "I work for a large multiple, I am yet to understand what their vision of the future is. Is it as a wholesaler, or a patient safety focused pharmacy business? I think they struggle with that, to be honest."
Our community pharmacists were perhaps surprisingly on the ball with respect to increasing NHS localism; for many it was crucial for pharmacy to become more integrated with their local GP practice, their new primary care network (PCN), or their local Primary Care Home site. But most recognised they were starting from a difficult place. For many, things were currently going backwards, if they had started at all.
"They're getting rid of the minor ailments scheme in March. They said we haven't got a budget; we're going to give it to CCGs [Clinical Commissioning Groups]. The CCGs aren't interested, they say we're happy with the service but don't want it coming out of our budget." "The services we are getting are less; the money we are getting paid for the existing services we are doing, such as EHC, is the same amount as when we started eight years ago. They have no intention of increasing the money because they don't have the money. They're looking to try and cut smoking cessation too."
"There is huge potential for more local teamworking, but we need more understanding of each other's roles in order to work better together. Every flu season there will be one GP surgery that actively discourages their patients from going to their local pharmacy for vaccinations."
Elsewhere, there is much to build on. Pharmacy has always been afflicted with 'pilotitis' but even among our small group of community pharmacists, the range of local services in play right now was surprisingly wide. "We've got an active LPC, and a great NHS England commissioner - really on the ball, fighting for pharmacy. We've just started doing blood pressure, with atrial fibrillation screening."
"There is a new [alcohol screening] service being rolled out to 42 pharmacies. We'll be doing interventions and screening patients with Audit-C; the evidence is that four in 10 will be high risk drinkers, and 60 per cent will cut down after an intervention. Patients are comfortable talking in a pharmacy. People want an informal approach, and this service does that."
A brighter future
Most of our community pharmacy cohort saw a brighter future in local team working, but some were not convinced there'd be immediate benefits. "If some of the structural things that are happening, like Primary Care Home, get better traction that is going to be an opportunity for pharmacy to engage in a way that relates to the rest of primary care, and gets the right sort of scale attached."
"There's an appetite for it in pockets, but I don't think nationally they know where that fits. Our surgeries are merging, so they are going to look at what services they can integrate, so we are talking from the beginning with them - "could I do this, could I do that?' - all geared around long-term conditions, that's the key. If we sell ourselves as people who can manage long-term conditions, then that's going to be of benefit to the NHS, patients, the surgery, us. Win, win, win, win, but they are going to have to pay us otherwise there is no incentive."
This theme of making the running clearly resonated with a number of our group. "Just going to a meeting and chatting opens a few doors. I don't think pharmacists generally are very good at the networking side. You have to put yourself out there."
"You've just got to bite the bullet. Have the courage to say I can do this, give me a little bit of money, a pilot for six months. If it doesn't work, you haven't lost anything. I've been doing a bit of work with the hospital around take home medicines. It's going to reduce their discharge time by three hours. That's a massive political statement for community pharmacy to be able to provide that kind of service. It'll save money, reduce pressure on the hospitals. You just need to be able to have the courage in your own abilities, and go for it."
"My pharmacy is in a village, one GP practice. We now go to practice meetings, things come out of that. It's not necessarily commissioned as a service now, but the satisfaction comes from improving patient care in a much more integrated approach. There might be some serious business decisions linked to that, like pharmacies merging with practices, for example."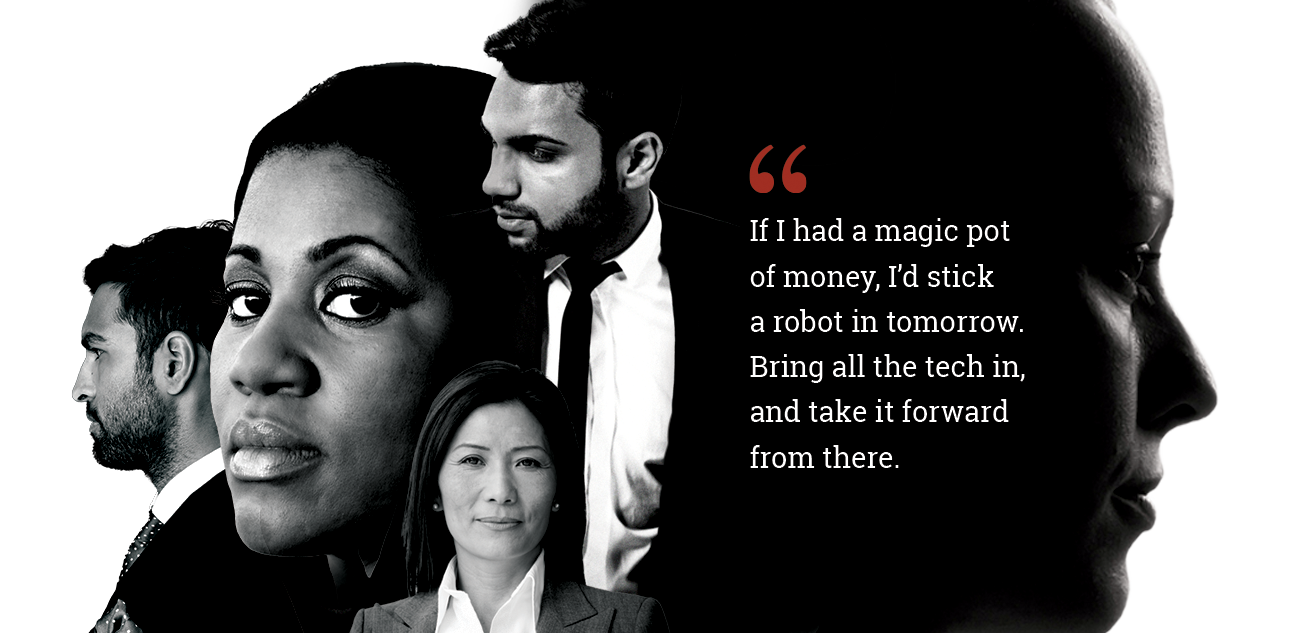 "I'm looking to see if I can integrate the surgery and pharmacy reception, so you have better triage via a pharmacy trained assistant. We've got to show it can be done. I'd love to be part of a broader team."
They clearly see challenges. "We need the hearts and minds of pharmacists to engage with this. Integrated care systems are going to take five years. If I'm a contractor facing bankruptcy in the next few months, I'm not going to be interested in the next three to five years. My reality is grim."
"We need some creative leadership across the profession with a shared vision. I'm not sure there is. That scares me. If we can't get people involved, how are we going to move the whole lot forward? If pharmacy is shut out of [team working in primary care], that is potentially the end of community pharmacy as a viable profession."
"I think pharmacists in general practice exist because community pharmacists as a whole have not stepped up. If things like MURs and NMS (and minor ailments) were being done well and consistently from the top, you'd find it very difficult to justify putting pharmacists into practices."
And, finally, our pharmacists had some thoughts about the missing links, the spark that would set the sector alight, the key ingredients for a sustainable (and better) future.
"Independent prescribing. It's a no brainer. If you had an IP in every single pharmacy, the entire world opens up for you. No reason that couldn't happen. You just need the will. Our 12-18 month plan is to develop a service to prove the model locally with one or two examples."
"If I had a magic pot of money, I'd stick a robot in tomorrow. Bring all the tech in, and take it forward from there. Not just so I can become a highly qualified personal assistant for the practices, I want to take over all the long-term care - diabetes, respiratory - within the community.
Feeling unsupported
"The obvious thing is to say money, but I don't think it's about that. More support from the people who are supposed to do that. I don't feel supported by the professional bodies; I don't feel connected to them. Doctors are so supported by their Royal College and the BMA, they have the confidence to do things. Even in my own LPC, I think a lot of people have their own agendas. We just need one body that would support community pharmacy."
"Funding. We use tech, we have a robot, we use apps to communicate with patients, including text messaging to book appointments, but as a company we're looking at the precipice of closure if things go badly wrong over the next few months. The medicines management team view seems to be that if there are six of you on the high street, and three of you go to the wall, so what?"
"I'd just like a bit of certainty. I have a great team, who've seen little in pay increases in 10 years. I need to have a model to work with, and on the back of that, I can invest. If I'd been in this situation as a pharmacist in business for five years, I think I'd be gone by now."
This article includes the views of 20 pharmacists, working in chains and independents, employees and owners, some involved in local representative organisations and some not.
They answered a series of common questions in February 2019. The quotes included here are theirs, and have been edited only for the purposes of presenting their views as a single narrative.
Record my learning outcomes