Hancock: 'We will unleash the potential of our pharmacies'
Health & NHS
Hancock: 'We will unleash the potential of our pharmacies'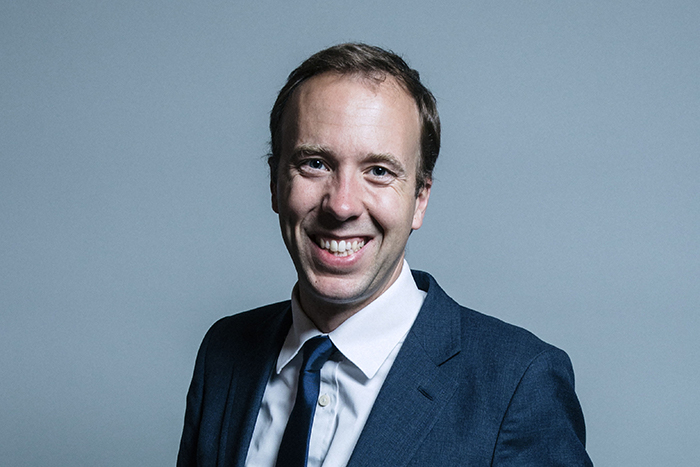 The Government plans to "unleash the potential" of community pharmacies, said health and social care secretary Matt Hancock in a speech at Policy Exchange on December 18 setting out the health priorities for the new Conservative government.
The Conservatives will "massively invest in primary care because it is the frontline of prevention", he said. "We will deliver an extra 50 million appointments a year in general practice within the next five years – by expanding the workforce, harnessing the power of technology, and giving GPs the support they need.
"And we will also 'unleash the potential' of our pharmacies because there really is so much more they are capable of doing. Over the next five years, they will become the first port of call for patients with minor illnesses. More than 10,000 pharmacies are ready to receive referrals from other parts of the health service – and that number will grow."
Setting out his four priorities – prevention, people, technology and infrastructure – he reminded his audience that new capital investment will be underpinned by a record financial commitment to the NHS Long Term Plan of £33.9bn extra every year within the next five years. "We will meet our first manifesto pledge by enshrining that into law," he said.
Prevention agenda
The prevention agenda is "incredibly important because prevention is better than cure," Mr Hancock said. "As well as investing in infrastructure, we need to make the 2020s a decade of prevention of ill health."
This means supporting everyone to take more care of their own health. "I don't believe in the worried well – I want healthy people to be concerned about their own health so they stay healthy," he said. Targets include vaccination against preventable diseases, redoubling efforts to be smoke-free, tackling obesity, and "embedding a more proactive, predictive and personalised approach across the NHS".
Under the Health Infrastructure Plan Mr Hancock promised the biggest hospital building programme in a generation. The NHS will come out of the 2020s "completely physically transformed" with 40 new hospitals over the next decade, he said.
He also pledged to deliver on the commitment that in five years' time there will be 50,000 more nurses in the NHS. An expanded nursing recruitment advertising campaign will get underway shortly, he said.
To attract more nurses into the profession he announced a £2bn package of financial support for trainee nurses. Student nurses will receive a free, non-repayable training grant worth up to £8,000 a year on top of the existing funding. Additionally every student nurse will receive at least £5,000 extra a year from September 2020.
At the same time, the routes into nursing will be broadened with more nursing associates and apprentices.