Ethnic minorities at greater Covid risk says Government
Health & NHS
Ethnic minorities at greater Covid risk says Government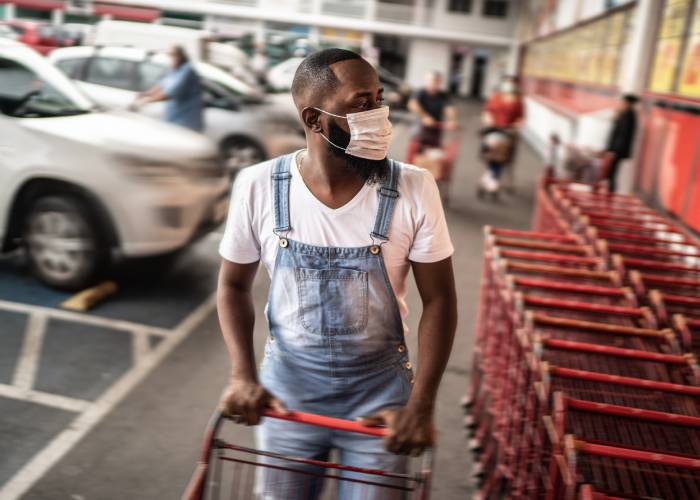 Public Health England's report on the risk Covid-19 poses to different groups confirms that men and older people are most likely to die from the virus, but also finds the pandemic may be exacerbating inequalities along ethnic and occupational lines.
The report, which was published last night, found that age is the single biggest risk factor, with over-80s seventy times more likely to die than people under 40. Meanwhile, working age men were twice likely to die as women.
The report also supports previous findings from the Office of National Statistics showing that black and other minority ethnic groups are at greater risk than white individuals, with black adults four times more likely to die from coronavirus than white adults. 
"People of Chinese, Indian Pakistani, Other Asian, Caribbean and other Black ethnicity had between 10 and 50 per cent higher risk of death when compare to White British," the report finds, with black ethnic groups the most likely of any ethnicity to be diagnosed with Covid-19 in the first place.
It is not clearly understood why BAME individuals are at higher risk. The ONS found evidence of worse outcomes in minority ethnic groups that persisted even when other factors such as deprivation were accounted for.
The PHE report also supports the ONS finding that health and care workers and those whose jobs bring them into contact with others, such as security guards, taxi and bus drivers and construction workers, have "significantly high death rates from Covid-19".
People living in deprived areas showed higher diagnosis rates and deaths than those living in affluent areas, and urban areas such as London had the highest death and diagnosis rates by local authority.
The report "confirms that the impact of Covid-19 has replicated health inequalities and, in some cases, has increased them," say the authors.
RPS: 'Report says nothing new'
Commenting on the report, Royal Pharmaceutical Society president Sandra Gidley said: "The outcome of this review is disappointing as it re-states the problem, rather than offering new insight.
"We had hoped for an action plan to address the issues for BAME patient-facing frontline clinicians. The report contains no recommendations or actions, and it is unclear how the Government plans to proceed.
"The Government needs to act much more quickly on this issue to make sure BAME pharmacists feel as safe as possible. This involves engaging with pharmacy on the topic to bring about real change to support and protect our workforce. There are also opportunities here about how pharmacists can support vulnerable populations and tackle health inequalities.
"The first step on from this report must be to ensure robust risk assessment and protection is in place for BAME staff along with other vulnerable groups, such as staff with existing health conditions.
"We will be following these issues up with the Equalities Minister, Victoria Atkins MP, as a matter of urgency."