Lung Cancer Symptoms campaign extended
Health & NHS
Lung Cancer Symptoms campaign extended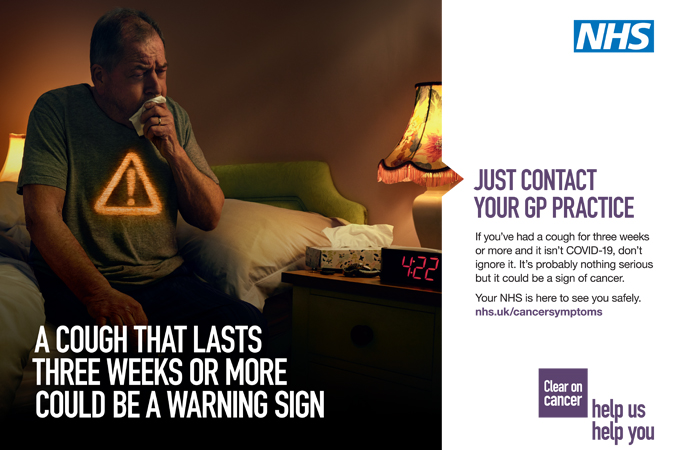 Public Health England (PHE)'s 'Help Us Help You – Lung Cancer Symptoms' campaign has been extended and will now run until late May 2021.
Launched on February 17, the campaign highlights key messages to raise awareness of lung cancer, such as a cough that lasts for three weeks or more, and encourages anyone who has these symptoms to contact a GP.
Key messages include:
If you've had a cough for three weeks or more, and it isn't COVID-19, it could still be a warning sign
A cough for three weeks or more could be a sign of cancer. Just contact your GP practice
It's probably nothing serious, but finding cancer early makes it more treatable
Your NHS is here to see you, safely.
Lung cancer is the third most common cancer in England, yet referrals remain lower than normal, according to PHE. In December 2020, referrals had reached 73 per cent of pre-Covid levels, while referrals for all cancers were just over 100 per cent.
Advertising will run across TV, video on demand, radio and social media and includes an interview with cricketer Andrew Strauss, who lost his wife to lung cancer, support from TV presenter Gaby Roslin, who lost her mother to lung cancer, and activity from media medics.
Resources are available to download from PHE's Campaign Resource Centre including a campaign toolkit, posters and social media statics. New assets will be added over the coming weeks, including social media videos, web banners, email signatures, digital screens, further translated assets and accessible formats (including British Sign Language), adds PHE.
Record my learning outcomes