Boots launches £120 Covid test with 12-minute turnaround
Business
Boots launches £120 Covid test with 12-minute turnaround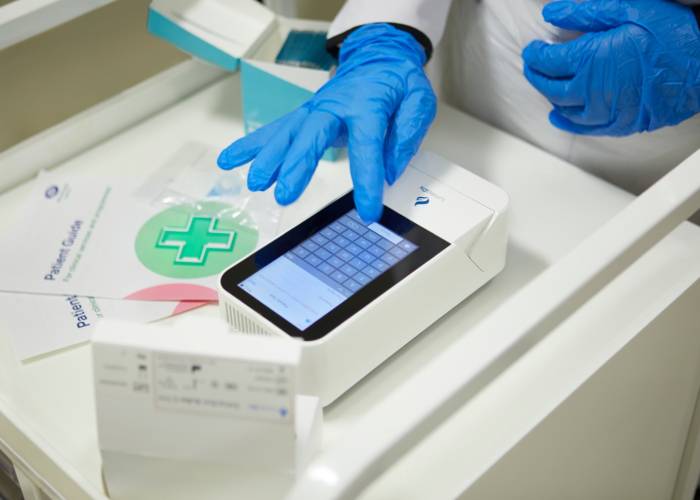 Boots UK has launched a new in-store swab testing service it says will tell people whether or not they have coronavirus within 12 minutes.
The private service, which costs £120, uses a portable machine to analyse swab samples taken in-store from patients who have booked an appointment. It will be launched from selected stores over the next two weeks.
The multiple is pitching it at people who do not currently have any Covid-19 symptoms and wish to "quickly get peace of mind," with symptomatic individuals advised to self-isolate and access NHS testing via the usual routes. The rapid LumiraDx test has sensitivity of 97.6 per cent and specificity of 96.6 per cent, Boots claims.
The multiple has also today launched an in-store PCR testing service similar to that used by the NHS, with swabs sent off to a registered lab and results given within 48 hours. This is also priced at £120, and is being promoted as a 'pre-flight' service for people planning to travel abroad (the rapid tests are not accepted as 'certificates to fly').
The pre-flight service is currently available in 10 stores in London, Birmingham, Manchester, Edinburgh and Glasgow, with the multiple planning to roll it out across 50 more in the coming weeks. "Depending on demand and feedback, the launch may extend to 200 stores over the coming months," said Boots.
These new testing services will help speed up testing and tackle "inappropriate use of the Government testing programme," claimed Boots.
Boots managing director Seb James said: "Boots has supported the Government's Covid-19 testing programme from the very start and offering this new in-store service is the next step in our efforts to fight against the pandemic. We hope by offering this testing option in local community stores, Boots can help ease pressure on the NHS and the Government by providing additional access to testing and crucial reassurance for people across the UK."
Questions have been raised around the usefulness of testing asymptomatic individuals for 'peace of mind'. Professor Paul Hunter from the University of East Anglia said: "A negative test today tells you nothing really about whether you are going to be positive a day or two later."
Boots has been approached for more details on the service.Â
Record my learning outcomes